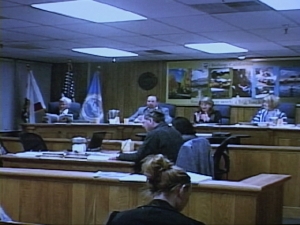 The issue of a prayer before the Bishop City Council came up again Monday night. Based on a new court decision, the City Attorney Peter Tracy offered a new set of invocation guidelines. The Council did approve them.
Earlier the Council had adopted prayer guidelines that discouraged the mention of any particular deity. The policy had come about after a Hindu man from out of the area had requested to deliver the invocation in Bishop. His request triggered legal concerns. A number of Bishop pastors objected to the policy which they felt prohibited them from referring to "Jesus Christ."
Since the original policy, a major court decision filed in Lancaster, CA was issued by the Court. That decision allowed greater freedom for pastors prayers. The new guidelines describe a process of allowing local religious leaders to take turns delivering prayers. The policy also says that neither the City Council nor City Clerk "shall engage in any prior inquiry, review of, or involvement in, the content of any prayer to be offered by an invocational speaker.
The policy also says it is not intended to affiliate the City Council with any faith or religious denomination but will encourage respect for the diversity of religious groups and faiths in Bishop.
Councilman Keith Glidewell, who has suggested that perhaps there should not be a prayer before the meeting, asked that the issue come back to a future agenda for discussion.