Bishop Police Chief Kathleen Sheehan, on job since the start of the year, is pushing an effort to reduce traffic accidents in town. Chief Sheehan says that the 78 car accidents last year in Bishop is high for a small community. Education and asking people to slow down is the main focus of the effort, but the chief also warns that crosswalk violation sting operations and more traffic tickets are also in the works.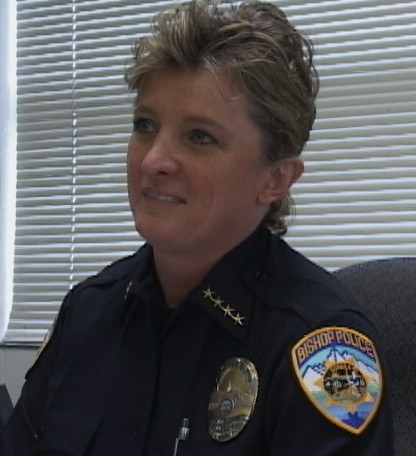 Chief Sheehan explained that most of the accidents occur on Line Street and Main Street, especially near the wye. When the accidents are plotted on a map, there is also a cluster on Hanby Street that includes an injury accident due to drunk driving.
Sheehan explained that the City and Caltrans can help out with the effort with signage and red zones to improve visibility at corners. The main effort, she says, is education but there will also be an enforcement effort.
The main reasons people get into vehicle accidents, according to Sheehan, are excessive speed, unsafe lane changes, merging onto the road way from a side street, people driving drunk, and stop sign violations. The Chief asks that people slow down and make careful lane changes.
The enforcement effort may include sting operations at crosswalks. "A person walking across the street might be a citizen or might be an undercover police officer. Well write you a ticket if you drive through while he's still in it," the chief reports.
Chief Sheehan stressed that the police are trying to solve the problem, not just write tickets. Id be just as happy if the officers stopped people and warned them as I would if they stop and write people, she says.
The main point of this effort to reduce traffic accidents she says, is that we can do something about this. We know the reasons. We even know where they are happening and that its not that hard to fix with help from the public.