Nadine B. Sayers
1924-2018
Nadine B Sayers age 93: Born in Pasadena August 21, 1924 and she passed away peacefully on April 20, 2018 in Bishop, CA. She was the youngest of her 10 siblings.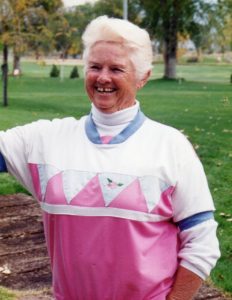 She married her husband Gus Sayers on August 12, 1944 and had a daughter Susan Sayers Saunders. Nadine and Gus moved to Bishop, CA in 1969, after her husband passed away in 1972, Nadine got a job as an Emergency Room Clerk at Northern Inyo Hospital.
She was a great golfer and loved to do rock hunting and rock polishing which she made jewelry with. She also, loved to travel with Buffy her dog in her mini motorhome around the United States and really enjoyed Alaska with her sister Ginney.
Nadine was preceded in death by her husband Gus and all her brother's and sister's. She is survived by daughter Susan Saunders and son-in-law Paul, 2 grandchildren Paul and Pamela along with 4 great grandchildren.
Graveside services will be held at East Line Street Cemetery on Friday April 27, 2018 at 1:00 PM.