0 0 0
Many motorists have done it for years even though it wasn't a law – move over to the next lane when passing a CHP stop or other emergency vehicle stop on the side of the highway. This year it is a new law in several states – the Move Over/ Slowdown Law. In California the law already existed but has now been expanded.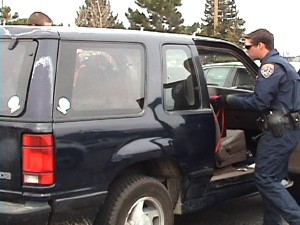 The law went into effect in California three years ago but this year Caltrans vehicles were added to the code. CHP Officer Dennis Cleland said that the code requires a person driving and approaching stationary emergency vehicles with lights on or stationary tow trucks with lights on to make a lane change away from the vehicle stop or if that's not possible, to slow down to a prudent speed.
Again, this year California added Caltrans vehicles on the side of the highway as cause to move over or slow down.
The CHP in the Eastern Sierra does enforce this law that applies statewide. Officers will use judgment if someone passes them at what seems an unsafe speed. If a car flies by, the officer may radio ahead to another officer or chase the car.
Some viewers and listeners have contacted us to say that they just became aware of enforcement of this new law in other areas of California and most other states. One of those common sense safety things.