– Press release from Great Basin Unified Air Pollution Control District
Tuesday, the Mono County Superior Court released its decision for the Great Basin Unified Air Pollution Control District (Great Basin) to uphold its conditional approval for a new geothermal project by Ormat located in the Casa Diablo area of the Inyo National Forest.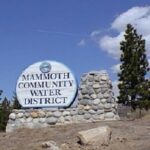 In his decision signed on June 26, Superior Court Judge Stan Eller rejected the arguments of the Mammoth Community Water District (MCWD) and two union groups who alleged that the project approvals did not comply with the California Environmental Quality Act.
The Great Basin's approvals were part of a joint federal and state agency review of the project with the U.S. Bureau of Land Management and U.S. Forest Service. The project will support California's Renewable Portfolio Standard, which requires the increased use of renewable-energy resources.
The project will also support California's Global Warming Solutions Act of 2006 which directs that the use of renewable energy be increased to 33 percent by 2020. The project is anticipated to produce enough clean energy for approximately 33,000 people and six new permanent jobs for the community.
The geothermal reservoirs and the drinking water aquifers located approximately two miles away and separated by a layer of impermeable rock. The Court held that the extensive record of evidence, including expert opinions and scientific studies, established "substantial evidence that there is no connectivity between the deep geothermal reservoir and MCWD's groundwater aquifer."
As part of the Great Basin's approvals, a groundwater monitoring plan must be approved by the federal and state agencies and implemented by Ormat before drilling any new geothermal wells. Ormat has obtained assistance from the California Energy Commission for two new monitoring wells and agreed to the location of those wells with the Water District to ensure that geothermal operations do not affect Mammoth Lakes' domestic water supply.
"The Great Basin has been committed from the beginning to protecting the drinking water and the environment," said Phill Kiddoo, the Great Basin's Air Pollution Control Officer. "This has always been its priority and of upmost importance. We appreciate the Court's extensive review of the volumes of evidence, scientific studies, and independent expert opinions. The Court correctly found that substantial evidence supported the Great Basin's decision to approve the project if proper monitoring and other precautions to protect groundwater are approved and implemented."
A complete copy of the Court's decision in the Mammoth Community Water District case and the Court's decision for the two companion cases involving the unions is available upon request.