As the storm moved into the Eastern Sierra, heavy rains began to fall. In Bridgeport, that fact turned into a mini-disaster.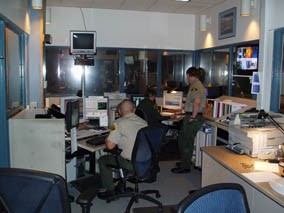 Seems that a project was underway at the Mono County Jail to replace the roof on the entire complex. The old roof had been stripped away, leaving the entire facility vulnerable. Rain fell hard and fast, flooding everywhere.
Undersheriff Ralph Obenberger said that the jail, administration offices, records – all flooded. The conditions led to the release of about 10 prisoners who will be re-sentenced later or released on their own recognizance and serve their time later.
20 other prisoners were transported to the Inyo County Jail. Inyo Sheriff Bill Lutze said this afternoon that he and his officers were getting prepared for their 20 visitors. Lutze said he had room in the typically full jail.
Lutze said that his people got booked in place to book the Mono prisoners in as courtesy inmates. Asked if Inyo had enough food for twenty extra inmates, Lutze said yes, they had plenty of food.
It was unknown how long the Mono inmates would stay bunked in Inyo.