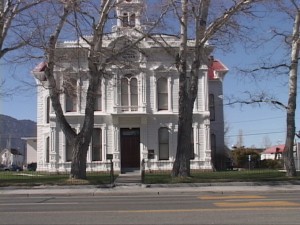 The US attorney will file an embezzlement case against 51-year-old Roxanna Foley of Bridgeport, a former Eastern Sierra Community Bank manager.  Mono Assistant District Attorney Tim Kendall said that Foley appeared in court Monday, and he requested her matter be taken off calendar.
Kendall said that the US Attorney is "preparing their case and will seek an indictment against Ms. Foley before a Grand Jury."  If indicted, Foley will then go to court in the Sacramento Federal Court.  Authorities have not yet revealed how much money is at issue.
In another Mono County case, Cheryl Goode of Bridgeport has entered not guilty pleas to allegations that she misappropriated funds from the Bridgeport Public Utility District.  In a May press release, the Mono DA's office said that their investigation revealed that Goode "issued herself numerous unsubstantiated payments.  Goode is currently out of jail on $25,000 bond.  Her next court appearance is scheduled for July 17th.