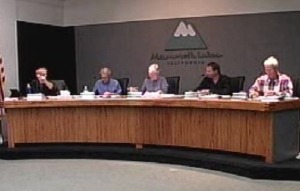 They spent an hour in a closed session Thursday, but the Mammoth Town Council said nothing in public about the recent offer from Mammoth Lakes Land Acquisition to resolve the $42 million lawsuit debt.  Now, officials say they will speak openly to the public at their next regular meeting on April 4th.
Assistant Town Manager, Marianna Marysheva-Martinez, told Sierra Wave that the Town does plan to update the community in an open session at the next Town Council meeting.  She said that discussion will include some response to MLLA's letter that offered a settlement.
In that letter, MLLA lawyer Eric Winston said that the company declined to participate in mediation.  He said the Town has "studiously avoided accepting any responsibility for its contractual obligations to MLLA." With the debt now swollen to nearly $43 million, MLLA offered that the Town can pay $2 million now and $2.8 million per year for 30 years, with other terms.
Meanwhile, the Town remains in a downward financial slide, short $700,000 this fiscal year and an estimated $2.2 million next fiscal year.  Martinez said the Town is working with one of its consultants, FTI, to put out budget projections to reveal cash flow and expenses over a longer period of time – up to 5 years.  Of course, projections of revenue depend largely on snowfall which is unpredictable.
The Town Council did vote unanimously in favor of an internal loan of $4.4 million from the some $10 million Vehicle Replacement Fund to pay for lawyers dealing with MLLA and financial consultants helping with the debt and budget problems. A total of nearly $3 million will be set aside for those fees.
Martinez asked for the resolution on the internal loan to be revised to increase the amount of money going to a bond advisor that would help the Town figure out how to finance its debt.  NHA's future payments went from $7500 to $45,000.
Martinez said that this would take away money set aside for mediation.  Of course, MLLA's attorney has said they won't mediate.