Heaven became a little brighter when it welcomed Margaret Elizabeth Kinerson in the late hours of May 14, 2016.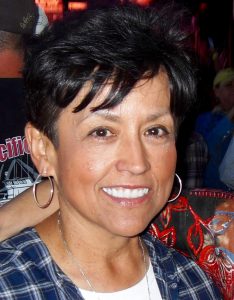 Born in Bishop, CA on March 10, 1956 to the parents Diego and Joni Huarte, her kind heart and contagious smile blessed many.
Margo is survived by her husband JR Kinerson; step-children Leon Kinerson and Shelley Kinerson; grandchildren Cheyenne Robinson and Landan Kinerson; brothers Leonard Huarte and Sam Huarte; sister-in-law Valerie Huarte; nieces Danelle Tackett and Amber Arntsen; nephews James Sepsey and Cody Huarte; numerous aunts, uncles, cousins, nieces, nephews, great grandchildren and countless friends.
Services will be held Saturday, May 21 at 11 a.m. at the Barlow Lane gym with a potluck celebration of life to follow at Elks Bulpitt Park.