For those who might have thought the Town of Mammoth's money problems were over, not so. When they meet Wednesday at 5pm, the Town Council will face the fact that the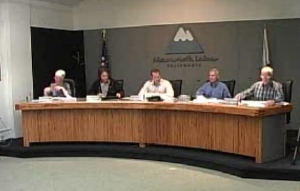 next fiscal year's budget is short more than half a million dollars compared to the five-year financial plan. Officials point to unknowns in the five-year projections and the still unfunded Whitmore Pool.
The baseline budget for 2013-2014 shows a projected shortfall of $562,527. Town Manager Marianna Marysheva-Martinez said, "Deviations were fully expected because the five-year plan was developed using September 2012 or earlier numbers and," she said, "projections were made at a high level." She called the shortfall disappointing.
Martinez explained that the utility franchise fee revenue did not increase as projected. She said this is possibly due to a warmer winter than the past year and lower gas and electricity usage. She said the five-year plan also assumed a lower budget for gasoline, diesel and maintenance supplies at the Airport than were actually used this year.
Although the Town Council did agree to fund Whitmore Pool and a maintenance position for last fiscal year, the funds are still not there for next fiscal year in the five-year plan. Town Manager Martinez said she personally does not believe that the Town can stop providing the program without other alternatives so she left it funded in next year's budget. The Whitmore cost equals $184,248.
The Town will also experience lower gas tax revenue due to another dry winter in 2012-13. Airport revenues will be lower mostly due to fewer flights.
The Town Manager will offer the Town Council several options to balance the budget. Among them – delays in hiring a Community & Economic Development Director, a Budget and Management analyst, a second TOT specialist and a new police officer. The delays have the option of six months to a full year.
The Council could also choose to delay remodeling the police station, reduce road rehab, shift 50% of the cost of fishing enhancement, Fourth of July fireworks, and the Chamber of Commerce to Mammoth Tourism.
The agenda bill says development of balancing options emphasize sustaining current programs and services and avoiding layoffs. To keep track of what is happening, staff will report quarterly on revenues and expenditures. If finances improve, the Council will have a chance to restore any delays or cuts.