After nearly two months of appearances at the Town Council and explanations about staff needs, Mammoth Police Chief Dan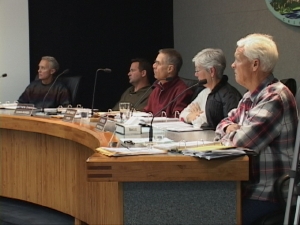 Watson won a unanimous vote from the Council on personnel needs.
The Council already knew the details of Chief Watson's belief in the need for a lieutenant and addition of a sergeant. No one disagreed with Watson's analysis of supervisory and public service needs. After some discussion about where the money would come from, Councilman John Eastman made a motion to fill the vacant lieutenant job and to backfill the vacancy that will occur form the promotion of an officer to lieutenant. Eastman's motion also included filling a sergeant's job but not backfilling the vacancy created by that promotion this fiscal year.
Chief Watson said it will take time to arrange for these promotions and he thinks that the other officer position will be vacant for a short time before filling it next fiscal year.
On another subject, the Council voted to pay for one-third of the air subsidy to provide summer and fall air service at Mammoth Airport. Council members agreed to task the town manager with negotiation of terms. The full subsidy amounts to $644,000.
Mammoth Mountain will pay one-third of the subsidy with the hope that Mono County and the Town of Mammoth will pay the other two-thirds. Mono County has not yet weighed in on the subsidy.