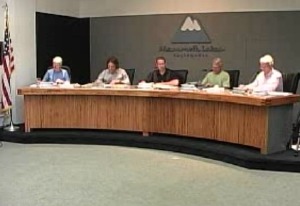 Although Mammoth Lakes officials have remained closed-mouthed about the certainty of municipal bankruptcy, observers see no other alternative for the Town which is faced with the looming $43 million lawsuit debt. In February, negotiations with creditor Mammoth Lakes Land Acquisition broke down. MLLA accused the Town of bad faith dealings over the debt. Monday morning, the Council called for a special meeting at 9am. Most expected news of bankruptcy.
The special meeting  starts with a closed session. At 10am, in an open session, the agenda says the Council will discuss and make necessary decisions related to "the status of and agreements reached during the 60-day AB506 mediation." They will also deal with the State Court Writ of Mandate which demands payment of MLLA's full judgment amount of $43 million. The agenda says the Council will then decide on the "next steps."
The Town has taken every required step toward bankruptcy, including mediation with all creditors who agreed to participate, according to state bankruptcy law. This included all Town employee groups who were expected to go along with between 10% and 20% cuts. MLLA did not take part in mediation.
With no resolution of the huge debt and no ability to pay it, the Town Council could declare a fiscal emergency which could lead to a court filing for bankruptcy. We will keep you updated on this major and unfolding turn of events.