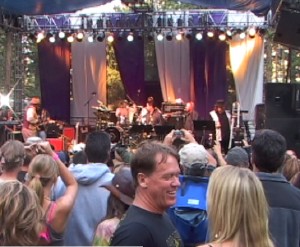 In Town News… The entire community is cordially invited to attend the Town's 30th Anniversary Community Party, for FREE! onFriday, August 15 at Shady Rest Park, and Town Council is scheduled to meet on August 6 at 5:00 p.m. with a PLAN Your PARKS presentation.
Around Town… This weekend is the legendary 19th annual Mammoth Festival of Beers & Bluesapalooza at Sam's Woods Site, the iconic Mammoth Lakes Music Festival features at the College, the 42nd annual Mammoth Lakes Fine Arts & Crafts Festival is at Kittredge Sports, and Mammoth is hosting the Kids Adventure Games.
Looking ahead… Shakespeare in the Woods: "A Midsummer Night's Dream," proudly hosted by Sierra Classic Theatre commencesAugust 8, along with the Mammoth Margarita Festival in The Village at Mammoth. Don't miss "Supermoon at the Summit" onAugust 9, StellarFest returns along with Fiesta Caliente on August 10, beginning August 14 is the Mammoth Wine Weekend and the smooth sounds of the Sierra Summer Festival. Closing out August is the Mammoth Flip on August 21 and Mammoth Rocks – A taste of the Sierra returns to The Village on August 22. Phew!
Recreation News… Never have a slow day in Mammoth again – experience the best of the Recreation Department this August. Grab the 2 for 1 youth skate rental coupon in The Sheet or in all certified racks throughout Town and get over to the Mammoth RecZone.  Located near Von's, admission is only $2.00. Hours: Friday: 5-10pm / Saturday: 3-10pm / Sunday: 3-7pm.
The Whitmore Pool offers recreation swimming midweek from 12:30-3:30 p.m. and weekends from 12-4 p.m. Swim lessons are offered midweek mornings and midweek transit service to the Whitmore Pool operates through August 22.
Summer camps are wrapping up for the season – register online today  for the Husky Prep Tennis Camp, Wave Rave Concrete Kommandos, Wilderness Camp, Tetra Brazil Advanced Soccer Camp, Youtheatre Drama Camp, Youth Gymnastics Camp and the final Youth Climbing Camp of the season!
Drop-in Tennis Lessons at the Community Courts are also scheduled every Tuesday and Thursday afternoon.
Fire Restrictions…Effective Friday, June 27, 2014 the Bureau of Land Management (BLM) Bishop Field Office and the Inyo National Forest implemented fire restrictions. Please do your part and abide by the fire restrictions. Click here for the latest information on the wildfire smoke impacting our air quality and review health tips from Mono County Health.
Town Meetings… The Recreation Commission meets on August 5 in Suite Z at 2:00 p.m. and the Planning and Economic Commission is scheduled to meet on August 13 in Suite Z at 2:00 p.m.
Review the latest forecast – summer in the mountains!
Make it a safe and great week.
Stu
Stuart Brown
Recreation Manager & Public Information Officer
Town of Mammoth Lakes