Lois C. Wilson
October 20, 1931-August 29, 2015
Lois C. Wilson was a beloved wife to her husband Earl Wilson Jr., and her children Robinn Sparks, Earl "Mugs" and Julie Wilson, Kirk and Olivia Wilson, and Scott Wilson.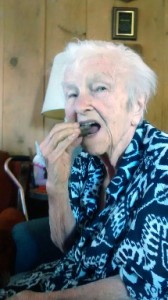 She was a cherished sister to Deloris and her husband Tony DeBendictis, and her sister- in- laws Mary L. "EASY" McGennis, and Linda Wilson. She was also a beloved grandmother to many kids and an amazing friend to many.
Lois was also known as the town "mom" she has help many children through school and did what she could to keep them thriving to do the best they could, even though she threw a little of her potential in there as well.
Lois had chosen the path to help many, she was primarily a homemaker. She has worked in Mendin Hall store, and later worked in the school for many years. She was also a member of the American Legion Auxillary and was deeply involved in civic activities including the Fire Department.
After Earl's retirement in 1982 they were able to travel extensively to Mexico, Canada, Alaska, and including the East Coast. Lois was an average square dancer in California, Nevada, Oregon, and sometimes Texas. Earl and Lois were members of the "Cal Electric Squares".
They were well known for their dancing, many say looked like they could glide so perfectly together.  Among Lois' most cherished times, a trek to the Northern Pacific coast with "The Fishing Crew", a large group of family and friends from the Eastern Sierra and the High Desert, this event was held approximately 6-8 weeks and occurred annually for over 20 years.
On September 12, 2015 @3:00PM there will be a celebration of life held for her at Big Pine Park.
"Come To Me"
God saw you were getting tired, and a cure was not to be. So he put his arms around you, and whispered come to me. With tearful eyes we watched you, and saw you pass away. Although we loved you dearly, We could not make you stay. A golden heart stopped beating, hardworking hands at rest. God broke our hearts to Prove to us, he only takes the best.