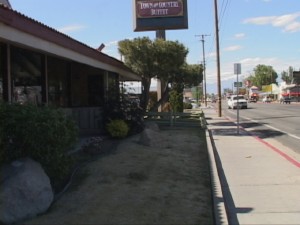 While Americans continue to suffer economically, the U.S. Commerce Department announced that retail sales rose in October and unemployment remained flat.   While the state of the economy has reportedly improved in the last five months, many still feel the pain.  In the midst of tough times, the Bishop Chamber of Commerce says many potential investors have called about Bishop.
In a response to questions about the Retail Coach Report commissioned by the City Council, Chamber of Commerce Executive Director Tawni Thomson said that the Chamber "has been contacted multiple times in recent months by potential investors that have inquired about relocating or opening new businesses here."  Thomson said she supplied copies of the so-called leakage analysis study to at least four different parties.
The Retail Coach firm prepared what they called a leakage report to pinpoint how many people do their shopping out of town or online instead of in town.  The entire Retail Coach study had fallen under some criticism for its methods and conclusions, but Thomson finds value in it as solid information to provide prospective and existing businesses. Thomson added that she shared the study information with Brad Balint, manager of Kmart, who said he would be interested in using it for possible expansion or alteration of current product offerings in the Bishop Kmart store.
Thomson said over the last five years, at least five to seven calls per year have come from people interested in locating a business in the Eastern Sierra.  Some, she said, are visitors who want out of the rat race.  Others are developers or scouts "looking for positive opportunities," said Thomson.  She said change may not happen immediately, but she is optimistic that in time good investments will come to Bishop.  "It's a good sign," said Thomson, "that they're still looking at us."
As Bishop locals ponder the state of business in the Eastern Sierra, the Commerce Department further reported that retail sales rose .5% in October which is up for a fifth straight month.  Consumer spending makes up 70% of economic activity.  The same report said car sales are up, particularly SUVs and trucks.  Reports are mixed on how the upcoming holiday season will fare in terms of retail sales.  Some reports say Americans surveyed reveal that they will spend less due to economic hardship.