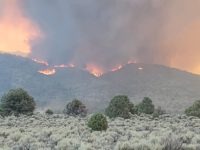 The report on forest conditions should have come as no surprise to the Eastern Sierra. Moisture levels in the national forests are very low and dropping with wildland fires predicted to hit
earlier in the season. The prospect of future forest closures is a possibility.
As if to punctuate the situation, Inyo National Forest Supervisor Lesley Yen gave her report to Inyo and Mono Supervisors remotely from the fire burning through New Mexico. Yen's advice to those holding business permits: get your paperwork requesting exemptions to the closures done as soon as possible.
Staffers from the Bureau of Land Management and the Interagency Fire Management Office
provided the grim statistics: December delivered the least substantial rainfall ever in California;
the state's snowpack is at 38-percent of normal with the Sierra Nevada at 4-percent; the water
content in vegetation is at 30-percent and dropping one to two months earlier than normal
while temperatures are climbing. The significance of fuel moisture is critical. The lower that
number the quicker a fire will burn.
The one small bit of better news: statistics on fire potential are better at higher elevations.
With fire conditions at a frightening high, Lance Rosen, assistant fire management officer with
Bishop's BLM office, had even worse news: staffing is at 70- to 75-percent of normal. "With a
long, busy, smoky summer ahead of us, we should be fully prepared and staffed. That is not the
case," he told the Supervisors.
In past years, Rosen said, nine engines are fully staffed seven days a week throughout the fire
season. This year, seven of those nine are staffed only five days a week. The high cost of living
and lack of affordable housing in the Eastern Sierra were cited as issues contributing to the
staffing shortages.
Yen outlined the Forest Service's closure process, starting with Stage 1 ban on camp fires for
dispersed camping. Stage 2 would ban fires anywhere in the forest followed by full forest
closures. "I wish closures were a local decision," Yen said, "but we have to look at the broader
context, at regional and national staffing."
There are efforts to change, Yen said, with a shift toward more Hot Shot units, greater wage
parity and more fuel treatment, but "the shift is slower than we'd like." In addition, the INF is
working on the mechanism for day use in the forest, modeled after the Toiyabe National Forest.