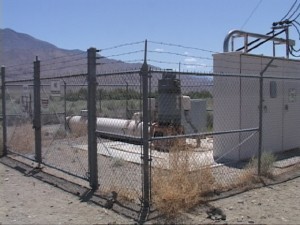 At a recent meeting of the Inyo-Los Angeles Standing Committee, DWP officials made it clear that they do not want to reduce groundwater pumping and that they will argue illogical procedures to drag out the process.
At their meeting, officials dealt with two issues.  Inyo Supervisors took the position that pumping should be reduced by 8400 acre feet this year in the Aberdeen area and north. In a letter from DWP Manager Gene Coufal, DWP agreed to reduce pumping by around 7200 acre feet but would then increase pumping in Laws, Independence and Oak Creek to keep their total pumping at 91,000 acre feet.  That's how DWP is pumping now.
Inyo Water Director Bob Harrington said that Los Angeles claims that before they change pumping plans, Inyo has to show measurable and significant damage attributed to pumping and has to come up with a mitigation plan – all this even before the damage takes place.
The pumping issue remains unresolved.  So does a procedural issue.  Harrington said DWP wants the Technical Group to make a finding of mitigations that will be required in relation to pumping even before Inyo County moves forward with allegations of a dispute.  That's the illogical part.  Make plans to fix something before it ever happens?
Harrington stated that the primary goal of the Long Term Water Agreement is to avoid impacts.  If DWP fails to do that, then mitigation comes in.  On the Standing Committee Inyo has one vote and LADWP has one vote.  On this issue of coming up with mitigation first, Inyo voted no and LA voted yes.  Next step ahead is dispute – mediation or arbitration.  They Inyo Supervisors were expected to talk about this at their meeting Tuesday, October 25th.
Water Director Harrington said, "This disagreement on procedures is an effort on DWP's part to create obstacles for Inyo County objecting to LA's pumping plan."  Harrington said the way things are going, the dispute process could take more than two years.