July 4th celebrations enjoyed by thousands in the Eastern Sierra, most of whom were confident in their Covid-19 vaccination shots
Most Eastern Sierra residents and visitors enjoyed a good Fourth of July celebration with friends and family, complete with barbeques, public fireworks (which fortunately did not start any major wildfires despite concerns), well-attended parades on main streets, and community gatherings with food, music, and fun activities for families.
Many of those that Sierra Wave News spoke with at community events seemed confident or at least hopeful that the worst of the Covid-19 pandemic is in the past, especially those that say that they had been vaccinated. They universally have high confidence in the effectiveness of the vaccines given the dramatic drop in Covid-19 cases and deaths.
With infection rates of Covid-19 remaining low after mass vaccination clinics in both Inyo and Mono counties, leaving those vaccinated with the choice of going without a face mask in most situations, there is a sense of optimism that the worst might be over. Inyo County reports that 58.2% of its population is fully vaccinated, while 66.3% pf the population has had at least one does. Statewide that compares with 59.2% of the population Fully Vaccinated and 69.2% with at least one dose.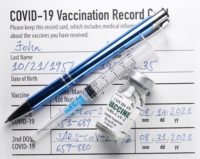 New positive cases of Covid-19 in Mono County have effectively "flat-lined" over the past 15 days at 0% (zero percent). Inyo County appears to have only 3 new positive cases over the past 7 days.
What is increasingly of concern is the increase in those contracting the much more infectious Delta Variant of Covid-19 in California, replacing the original Alpha variant. Fortunately, the current vaccines appear to be effective against the newer variants.
What is not such great news is that there are parts of the country in which Covid-19 rates are rising, largely in states with low vaccination rates especially in the Southern states despite pleas from those states' governors.
More concerning is that a larger percentage of those testing positive nationally for Covid-19 are increasingly pediatric cases.
Recent reports are showing that 99.2% of those who are still dying from Covid-19 are unvaccinated, as are most of those being hospitalized.
Both Inyo and Mono counties are continuing to offer free testing and vaccinations to residents. Contact your local health department for more information or to schedule an appointment for a vaccination, visit MyTurn.gov.com or call 1-833-422-4255.