Jimmy Lee Roberts  
3/29/1949 – 8/31/2018
Jimmy Lee Roberts passed peacefully into Heaven on August 31, 2018 in Bishop, California. He rests now after a courageous battle with Pulmonary Fibrosis for the last several years, which he faced with relentless strength and unwavering optimism.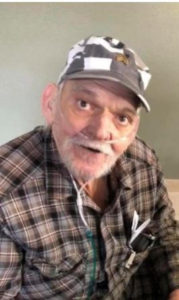 He was born 3/29/49 in Glendale, California to Wanda Fortenbury and Bowen (Cal) Roberts. Jimmy Proudly served his country in the United States Army from 1969-1974 and was a loyal supporter of his fellow service men and women and after discharge from the Army he moved to the Eastern Sierra and worked as an automobile mechanic and tow truck operator for over 40 years. He worked at most, if not all the service centers still in operation, and those that are no longer in business.
Known to all as having a heart as big as the Sierra he called home, he was a cup half full kind of guy and did not waste his time on this earth dwelling in the negativity. He had a selfless generosity that extended well beyond family.
A talented artist, a trait he received from his grandfather and passed down to his descendants. With a curious mind he relished learning about a wide variety of topics, often surprising family and friends with the breadth of his knowledge. He would learn about the interests of his grandchildren, whom he loved deeply, to be more involved and encouraging in their pursuits.
A faithful patriot and a frequent fixture at the VFW as well as a member of the local Veterans Helping Veterans group from which he proudly displayed the logo on the back window of his car. He enjoyed visiting his friends and telling stories of his very full life.
Stories ranged from childhood memories to what he happened to see on TV that day. There was not a day that went by that he wasn't either in contact or visiting those he loved and cared about. The deep love he had for his family and friends alike was reciprocated without a doubt.
Preceded in death by his son Eric; his mother Wanda and father Bowen (Cal). Survived by his 2 loving daughters Amy Hayes, and Erin Guillen who miss him so much; his beloved grandchildren Evan Lee Roberts (his best buddy), Spencer Renee Hayes, Sophia Gutierrez, Luke Gutierrez and Isaac Guillen; Sister Vicky Robinson; Niece Vikki Dee; Nephews Robert and George; his companion dog Hector (who is living like a king with Jimmy's daughter Erin and her family); and a countless host of friends. Forever missed, never forgotten.
So long, Partner! – Evan Roberts