Statement from Sheriff Bill Lutze:
It is with mixed emotions that I announce I will not be seeking another term as Sheriff which begins January 2019.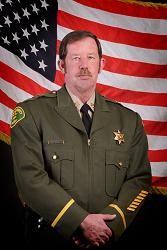 I love what I do and am thankful for the honor of serving the County of Inyo for the past 45 years, soon to be 12 years as Sheriff, but I feel that it is time to start a new chapter.
We have made many strides and accomplished many things as a department and we have the best Law Enforcement Officers in the State who are dedicated to serving the people of Inyo County.
I will truly miss the men and woman of the Sheriff's Department, County department heads and employees, and the citizens of Inyo County – who are very committed to making this county a great place to live.