It has been brought to our attention that the the MyTurn system updated clinic links late last evening and unfortunately the previously provided codes emailed out yesterday are non-functional. We apologize for any inconvenience or frustration this may have caused you. NEW links have been embedded below.
Se nos ha informado que el sistema MyTurn actualizó los enlaces de la clínica a última hora de la noche y, lamentablemente, los códigos proporcionados anteriormente que se enviaron por correo electrónico ayer no funcionan. Le pedimos disculpas por cualquier inconveniente o frustración que esto pueda haberle causado. A continuación se han incorporado NUEVOS enlaces.
Inyo County Public Heath, in partnership with the California Department of Public Health (CDPH), is offering more protection for you and your littlest family members with a Friday afternoon & evening clinic.
Walk-ins welcome, appointments are strongly encouraged.
To make an appointment, click the image below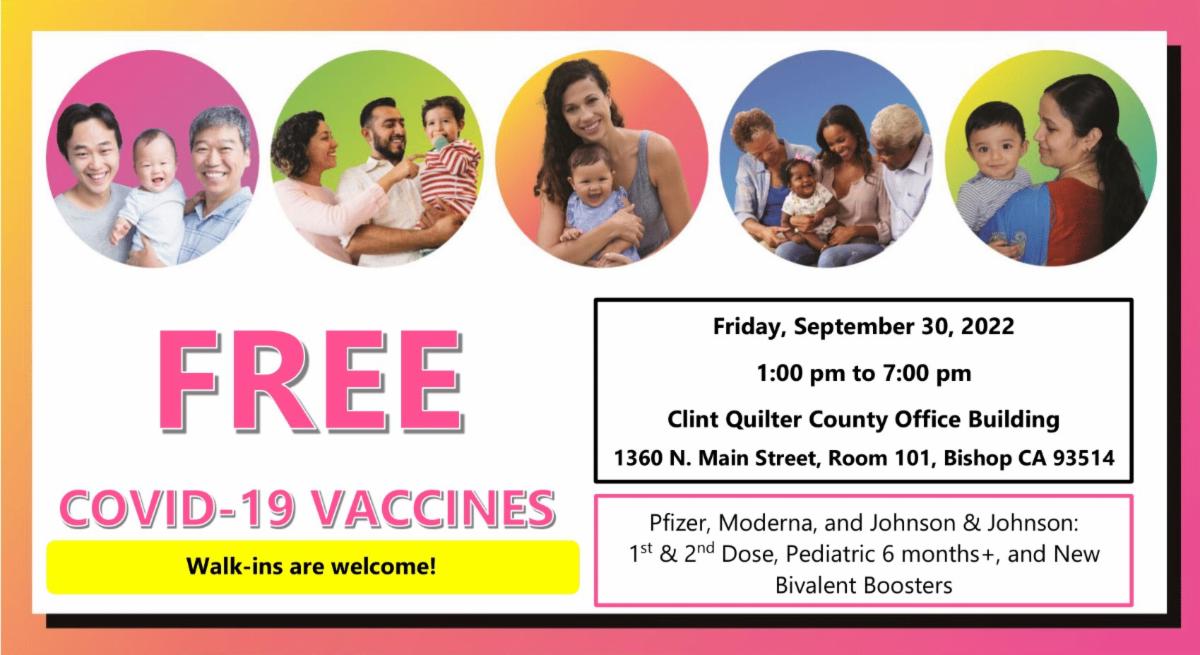 El Departamento de Salud Pública del Condado de Inyo, en asociación con el Departamento de Salud Pública de California (CDPH), ofrece más protección para usted y los miembros más pequeños de su familia con una clínica los viernes por la tarde y por la noche.
Se aceptan personas sin cita previa,
se recomienda encarecidamente hacer citas.
Para hacer una cita, haga clic en la imagen de abajo