Last week, City of Bishop officials seemed to point the finger at Inyo County government to solve the problems of less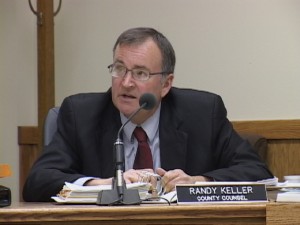 ambulance service. The Inyo County Counsel has a view on that.
Randy Keller added to his comments about the ambulance issue when he said that the thought of Inyo officials is that the "solution to the reduction in resources available for ambulance services has to include the community of Bishop as well as the County government."
Keller said, "A disappointment in the letter from the City and fire department was the impression that neither was willing to engage with the County to find solutions to their concerns." Keller said the County does not have the resources to step in and replace state and federal funding that is withdrawn from emergency medical services.
The County Counsel said Inyo needs all the affected entities in the County to join in to address these problems. He said the Inyo Supervisors expressed the desire that the County, City and Fire District work together to come up with solutions.
Keller also noted that as the state looks more to local governments to deliver and streamline services with dwindling state resources, it will become even more important, he said, in the immediate future that all governing entities in the County work together to minimize the coming hardships.