(CHP – Bridgport press release)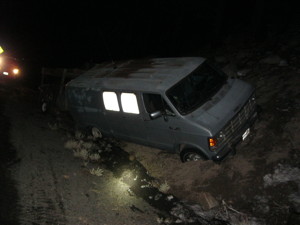 On Saturday morning February 8, 2014, at approximately 12:41 A.M., California Highway Patrol (CHP) Bishop Communications Center received a call from the Mono County Sheriff's Department regarding a solo vehicle, non-injury collision, involving a driver possibly under the influence of alcohol.
A CHP officer from Bridgeport Area's Walker/Coleville Resident Post responded from his residence and met with a Mono County Sheriff's Deputy at the scene of the collision. The CHP officer initiated an investigation into the collision, determined the driver of the vehicle had been unable to steer the vehicle through a right curve in the roadway, left the roadway and struck a rock/dirt embankment along the southbound shoulder of US 395. Mr. Copeland, age 46, of Amarillo TX., related to the officer that he had been traveling northbound on US 395 when he crossed over the solid double yellow lines in an attempt to avoid an elk in the roadway.  
The vehicle then collided with the embankment on the west side of the roadway. The collision caused the driver's vehicle to travel up a steep uphill embankment approximately 20 feet. The CHP officer determined the vehicle's driver was under the influence of alcohol at the time of the collision and placed him under arrest. Mr. Copeland's vehicle was towed from the scene, he was required to complete a breath test, his privilege to operate a motor vehicle in California was suspended and he was booked into the Mono County Jail.