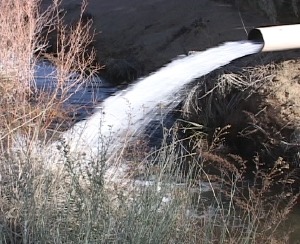 Albert Einstein reportedly once said the definition of insanity is doing the same thing over and over again and expecting different results.  Under that definition, Inyo officials fit the insanity category when it comes to the Los Angeles Department of Water and Power's annual pumping plan.
Under the Long Term Water Agreement, LA comes up with a plan evert April to pump the Owens Valley underground.  Inyo can raise concerns and LA pretty much ignores them.  Under an agreement that many citizens warned would leave Inyo defenseless, LADWP virtually controls groundwater pumping.  This year, LA has proposed not just a pumping limit but a wide range of pumping they might do.  Their proposal has left Inyo nervous.  LA says they will pump from 61,900 acre feet to 88,000.
Inyo Water Director Bob Harrington objected to DWP's plan. After a Technical Group meeting of both sides, Harrington said, "LA gave no indication that they would change their pumping plan."  This week, Inyo Supervisor Susan Cash told Harrington that he displayed incredible patience in the face of DWP's circular arguments.
Meanwhile, Harrington said there are two disputes on the table with DWP.  LA has objected to how much water it uses on enhancement/ mitigation projects.  Inyo is waiting for more information.  The other issue is the area known as Black Rock 94.  Harrington told the Supervisors that he is "pushing to get that on a schedule for resolution."  Harrington said that over a year ago the Water Department determined a significant change in the vegetation at Black Rock because of LADWP's groundwater and surface water practices. LA disagrees.  Harrington said LADWP pointed to the Inyo Complex Fire as the reason for vegetation destruction.
Harrington said Inyo gave DWP a report 16 months ago about Black Rock.  He said that vegetation conditions at Black Rock have been below baseline most years, and he said over time the type of vegetation has become more and more shrubs instead of grass.  This pattern violates the Water Agreement.
Harrington added that because Judge Lee Cooper sanctioned LADWP in 2005 and 2006 and because of an Interim Management Plan from 2007 to 2009, the vegetation conditions are not, as Harington said, "a wholesale picture of bad."  He said Laws and Black Rock, however, are two particularly damaged spots.  So far, LADWP has not revealed willingness to improve these environmentally harmed areas, and Inyo has not filed a formal dispute.