– Press release
About 1 ½ weeks ago, Mammoth Lakes Police Department Detective Jack Loera was contacted by an investigator with the Orange County District Attorney's Office, the investigator gave Detective Loera information that a person of interest in a homicide may be living and working in Mammoth Lakes.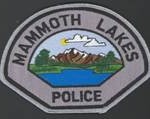 With the information Detective Loera received, Mammoth Lakes Police Officers were eventually able to locate and arrest the suspect on the outstanding warrant.
Wednesday morning at about 7:30, Detective Loera, assisted by Officer Lehr and Sergeants Hugelman and Moscowitz arrested Jose Cardenas Zuniga, 38, of Mammoth Lakes at his place of employment where he was working under an alias.
Zuniga was taken into custody without incident.   He was transported to the Mono County jail where he was later interviewed by Detectives from Orange County, who have an ongoing investigation.