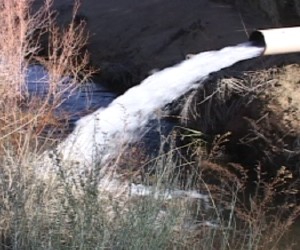 "Will leaders in Los Angeles be willing to work with Inyo County cooperatively on this fairly simple issue?"  That was the question Inyo Supervisor Chair Susan Cash posed when Inyo formally challenged the Department of Water and Power's pumping rate this year.  That was more than three months ago, and a meeting this month may spell out the answer. The other question up for an answer – which will hold the upper hand, Inyo's environment or DWP's money.
LADWP wants to pump 91,000 acre feet this.  That's more pumping than any of the last 22 years.  The Inyo Supervisors at first supported pumping of 68,500 acre feet but then challenged just 8,400 acre feet of DWP's plan.  They disputed DWP plans for pumps in the Thibault-Sawmill and Taboose-Aberdeen wellfields of southern Inyo.
DWP attorneys have argued procedural issues but in the meantime pumps have slowed down in the disputed wellfields, pending the next Standing Committee meeting October 17th at 11am in the Independence boardroom.
Inyo officials say that if issues are resolved, LA would submit a new pump plan to lower pumping. None of that is yet assured.  At a September meeting of the Standing Committee, officials sent lawyers off to narrow down the issues.
Some question if LA lowers pumping in the two disputed wellfields, will they want to raise the pump rate elsewhere?  Others say it's a matter of money.  Supervisor Cash had earlier said that even with a proposed pumping reduction, LA would still export 380,000 acre feet from Inyo.  On the open market, LADWP would have to pay something like $266 million to buy that much water. Gross revenues from DWP's sale of the water reaches still higher. The 8400 acre feet under dispute could cost around $5.8 million.
On the other side lies Inyo's environment.  The Inyo Supervisors' earlier press release said that the County's scientific analysis of well fields proves the need to reduce pumping to protect the environment in several areas.