When the Mammoth Town Council met last Wednesday night, the future of the iconic landmark, the Green Church, came up. Dan Dawson, Director of the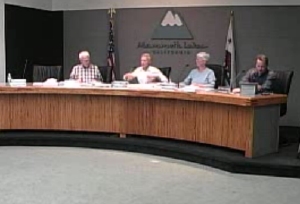 Valentine Reserve and Sierra Nevada Aquatic Research Lab, works for the University of California which bought the Green Church in 1987. Since then, issues with Mammoth Yosemite Airport have caused the University to think about transferring the Church to someone else.
Dawson explained to the Council that a 2001 proposal to expand the airport included expansion of what's called the Runway Protection Zone, which takes in the Green Church at the corner of Highway 395 and Benton Crossing Road. One of the rules prohibits public assembly, the only use for the Green Church. Back then, Dawson had negotiated with the Town for money to build a replacement for the Church. Of course, airport expansion was scrapped, but Dawson said the potential for future impacts has not gone away.
Dawson pointed to the future possibility that Mammoth's airport might be re-classified and then the same problem would exist for the Green Church and for the Town. Dawson said he has designed a new lecture hall and classroom for the main campus and has funding lined up for the $1.5 million project which will also be open for public use. However, Dawson said the lessor for the Green Church, the Department of Water and Power, has said the University needs to figure out the disposition of the Green Church before moving ahead with the other project.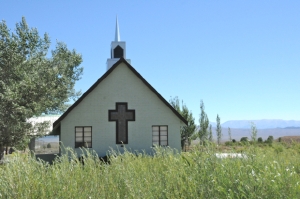 Dawson said the Town has two DWP leases in the Whitmore area and could easily make the church part of that. He said, "I'm trying to sell you a used car. The Town could buy the building at a token cost and solve my problem." Dawson said it would also solve Mammoth's future problem when the airport expands.
Town Manager Dan Holler said he needs more detail and will get that together to bring back for an agenda item in November. Dawson pointed out that it would "likely be a political nightmare if we have to tear down the Green Church which has become a local landmark."