MCWD news release
On September 3, 2019 work to complete fuels reduction on up to 630 acres in the Mammoth Lakes Basin will begin. Mechanical and hand thinning will create fuel breaks and defensible space along roadsides and around campgrounds, including safe exit routes. These activities will provide protection toinfrastructure and maintain recreational access to forest and watershed resources.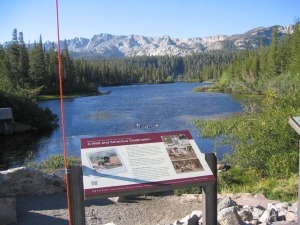 Access in the Lakes Basin will be affected, including road delays and trailhead, campground, and bike path closures. Planned closures will be updated Monday on the TOML website under "Town Highlights."
"We want to ensure that locals and visitors have information on where closures exist with a goal of minimizing impacts when visiting the Lakes Basin," states Interim General Manager, Mark Busby. "Outreach regarding the project's impact to access is being coordinated between multiple agencies in our community including Mammoth Lakes Tourism, Chamber of Commerce, Mammoth Lakes Trails and Public Access, Eastern Sierra Transit, Town of Mammoth Lakes, Mono County, and the Mammoth Lakes Lodging Association. Their assistance is greatly appreciated."
The project is partially funded by a $1,000,000 grant awarded to the Mammoth Lakes Fire Safe Council from the Sierra Nevada Conservancy (SNC). Funding for the remaining project cost is being pursued. The application and project was supported by the Mammoth Community Water District, United States Forest Service, Town of Mammoth Lakes, Mono County Board of Supervisors, and Los Angeles Department of Water and Power.
*SNC is an agency of the State of California, under the California Drought, Water, Parks, Climate, Coastal Protection and Outdoor Access For All Act of 2018 (Proposition 68) grant cycle and in support of the Sierra Nevada Watershed Improvement Project.