(From Randy Fendon) Video highlights – http://youtu.be/BSa6o5gX7bo
Event Follow-Up – 2014 Mammoth Fall Century & Gran Fondo Mammoth Lakes, CA (Sat., Sept. 6th, 2014) — At 7am on Saturday morning, 750 cyclists left The Village in Mammoth Lakes on the 2014 Mammoth Fall Century & Gran Fondo and rolled down Main Street in a mass start with a full traffic closure, a police and CHP escort and a helicopter overhead shooting video.
That began a 102 mile bicycle ride through a large and immensely scenic part of Mono County. Over the course of the ride, the cyclists would climb six summits totaling 6400 vertical feet and do this all at elevations between 6400 and 8200 feet.! At 9am the same morning, another 450 cyclists also left The Village in Mammoth Lakes on the shorter 42 Mile Piccolo and 70 Mile Medio routes of the Mammoth Fall Century & Gran Fondo cycling event. The Piccolo riders would climb over 2300 feet and the Medio riders would climb over 3600 feet.
All riders for the four routes completed their ride on an uphill finish coming back into Mammoth and crossing the finish line at The Village where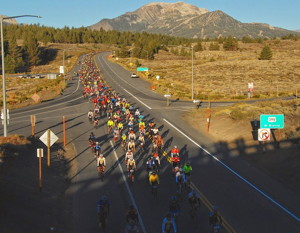 they originally started. Olympian, Deena Kastor, and the Mammoth Track Club were out on Hwy. 203 cheering the returning riders and offering them cold drinks and an inspirational "push" for a few feet if necessary. The cyclists loved it! In total, 1200 people from 22 States participated, and this year's event was the biggest and best in its 21 year history. Based on extensive feedback from participants, it was a great success. With 1200 participants, we estimate the event could have brought as many as 4000 people into Mammoth for the weekend. Many riders said it was one of the most well-organized Century or Gran Fondo rides they had ever attended and the scenery was stunning…and they said they'd be back next year!!
Organized and operated by the Mammoth Mountain Community Foundation, all net proceeds of the event help to further the non-profit and charitable activities of MMCF in supporting student-athletes and schools in Mammoth. Significant support and countless volunteers from local schools, non-profit and charitable organizations made this event possible. Volunteers from these groups helped with road closures, ringing bells and cheering riders on, and hosting our 7 rest stops and after-ride meal and party. A huge thanks goes out to Disabled Sports Eastern Sierra, Eastern Sierra Nordic Ski Association, Mono County Sheriff Search and Rescue, Bishop Broncos Football Team, Mammoth High School Swim, Baseball and Cross Country Running Teams, Mammoth Mountain Ski and Snowboard Teams, Mammoth Lions Club, Community Emergency Response Team of Mammoth, Mammoth Lake Women's Club, Mammoth Track Club, Eastside Velo Cycling Club and Mammoth Mountain Community Foundation.
Local Law Enforcement including Mammoth Lakes Police Department, Mono County Sheriff and the California Highway Patrol were incredibly supportive to the event and helped keep our riders safe on the roads. We received many reports of CHP officers providing great traffic control for the cyclists on Hwy. 120 and Benton Crossing Road and even checking on stopped cyclists to make sure they were okay. Local government agencies that provided important and enthusiastic support included Town of Mammoth Lakes and MLPD, Parks and Recreation, Public Works and Engineering. Mono County agencies that were very helpful included Sheriff, Emergency Medical Services, Special Events, Health Department and Public Works. Finally, Cal-Trans was incredibly important to the success of the event helping with permitting and technical input.
Good press for Mammoth and Mono County is certain to result as 3 journalists and high-caliber riders from popular nationwide cycling magazines attended and participated in the event including Road Bike Action, ROAD and Peloton Magazine. In fact, Road Bike Action Magazine Assistant Editor, Neil Shirley, has already posted a story online. More are certain to follow. See the link to Neil Shirley's story below. The 102 Mile Gran Fondo course was completed in 4 hours, 34 minutes and 39.82 seconds by Neil Shirley. Jon Hornbeck finished second at 4:34:41:58 and Chris Lyman finished third at 4:34:41:73. The top ten local riders were, in order, Pete Borowski, Luke Wynen, Tim Standifer, Tim Flynn, Luke Lydiard, Darren Malloy, Ben Logan, Dennis Phillips, Fred Leonard and Mike Braun. Complete results and more information is online at www.fallcentury.org.