PETS of the WEEK – May 19, 2010
SHELLY is a sweet 1-year old Miniature Vizsla mix. The Shelter staff and volunteers are enjoying taking her for walks and spoiling her and, of course, Shelly is having a great time. But, what she really needs is a kindhearted adopter to take her home.
BECKHAM is a great cat! He's almost completely white, except for a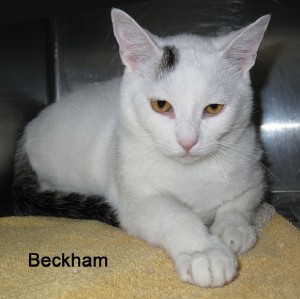 charcoal gray spot on his head and a cool charcoal-colored ringtail! He has beautiful gold eyes and a sweet disposition. What's not to love?
The Inyo County Animal Shelter has an amazing selection of adorable cats and lovable dogs. Please adopt one today. Visit in person on County Road in Big Pine or on-line at www.ICAREforPets.org. HOURS: Tuesday thru Friday, 10 am to 3 pm, Saturday and Sunday 11 am to 4 pm (closed Mondays). Phone 760-938-2715. Photos by Lisa Schade of ICARE