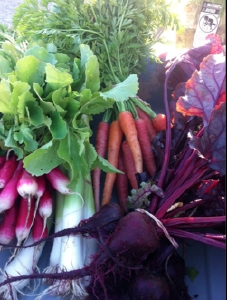 Spring Has Sprung!  Extended Farmers Market Hours in Independence Friday!
The next Southern Inyo Farmers Market will take place on Friday April 4 at the Owens Valley Growers Cooperative in Independence between 4 and 7 pm, on the corner of Edwards St. (Route 395) and Kearsarge.
This week's market will feature lettuce, mesclun, arugula, mustard greens, kale, micro-rgreens, spinach, onions, eggs, herbs, and baked goods.
For more information, call 510-468-7113.
The Eastern Sierra Certified Farmers' Market is hosting an informational public meeting for those interested in Eastern Sierra Farmers' Markets and Cottage Food Operations. The meeting will be held on Saturday, April 12 at 1:00 pm at the LADWP Office – 300 Mandich Street, Bishop.
Inyo/Mono Agricultural Commissioner, Nate Reade will be on hand to answer questions about the Markets and to provide market scale certifications.
Marvin Moskowitz, Inyo County Environmental Health Officer, will present information on Cottage Food Operations in Inyo County and guidelines for selling products adjacent to Farmers' Markets.
Eastern Sierra Certified Farmers' Market members Dori Cann and Martin Freeman will talk about local Farmers' Markets and how to become a member.
Farmers' Market information packets and membership forms and Cottage Food Operations guidelines will be available on-site.
Come find out how to be part of the local food movement!
Scale certification is $11.10 per scale.
For additional information call Sue at (760) 937-6768.