Over the weekend, Homeland Security operations geared up after three planes were seen dumping a dark substance into the Los Angeles Aqueduct. While the incident turned out to be a false alarm, the emergency response and law enforcement agents were on the job in short order.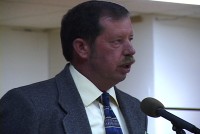 Inyo Sheriff Bill Lutze reports that on Saturday at 5:00 in the evening a DWP employee walking near the Haiwee Reservoir, saw three low flying small airplanes each release a dark substance, into the aqueduct. The reporting party then called DWP, who then called the Inyo Sheriffs department at 5:05 pm.
Emergency procedures for a terrorist attack are already in place. Within minutes, deputies contacted the reporting party to get a better description of the planes. DWP began emergency procedures for a substance in the aqueduct, and the Sheriffs department called the FAA to see if the planes could be picked up on radar.
Lt. Jim Jones, the Inyo County Homeland Security coordinator called the regional terrorist assessment center in Sacramento. Within a half an hour of the report, Lutze explained that FBI agents were on their way from Bakersfield, and Homeland Security in Washington DC was aware of the situation.
With systems geared up for action, Lutze says that Inyo Sheriff's officers calling local airports found that three stunt planes had been in Lone Pine earlier in the day. When an officer called one of the pilots who lived in Rosamond, the pilot reported that he and the other two pilots had seen people out walking and released some smoke. Lutze says that the pilots were basically saying Hi.
While the situation turned out to be a false alarm, Lutze says that the system worked well.