Press release
Vivace TO PERFORM IN
Bishop, Calif. on October 6, 2015
Live On Stage, Inc. and the Bishop Community Concerts Association Announce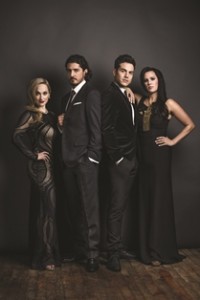 Spellbinding Quartet as part of their 2015 – 2016 Concert Season
NASHVILLE, Tenn. – (September 25, 2015) – Vivace a modern and thrilling combination of four unique and exceptional pop and classical singers will be performing live at Dorothy Joseph Auditorium located on the campus of Bishop Union High School on Tuesday, October 6, 2015 at 7:00 p.m. Single tickets are $25 adults / $10 students. For more information please call The Sound Shoppe at 760-873-5991, or visit the association website at http://bishopcca.org/.
"Four beautiful voices, one glorious sound!"
– Amy Sky, Universal Music recording artist
Based primarily out of Vancouver, Melody Courage, Tiffany Desrosiers, Marc Devigne and Michael Ciufo first merged their talents in 2010 performing at the Vancouver Winter Olympic Games.
Since then, they have gone on to tour extensively through the United States and Canada, captivating audiences everywhere they go. Their stirring combination of powerful male voices and emotionally driven female vocals come together to create a sound that is exclusively their own. With a rich and diverse repertoire ranging from pop, to arias, to their own self-written material, Vivace undoubtedly puts a fresh new take on the classical and modern music of today.
The Bishop Community Concerts Association has been presenting internationally acclaimed artists to the community since 1947. This all-volunteer nonprofit organization is committed to enriching the cultural life of the Eastern Sierra through live performances. Thanks to the generosity of Patrons and Sponsors, these concerts can be offered at affordable, family friendly prices.