ESTHER CARTER, BORN AUGUST 12, 1918, IN LOS ANGELES, CA, PASSED AWAY AT NORTHERN INYO HOSPITAL ON SEPTEMBER 7, 2016, WITH HER FAMILY BY HER SIDE.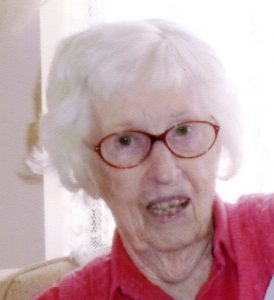 SHE WILL BE BURIED NEXT TO FRED, HER HUSBAND OF 69 YEARS, AT THE RIVERSIDE NATIONAL CEMETERY.  HE SERVED IN THE AIR FORCE AS A FIRST LIEUTENANT DURING WORLD WAR II.  THEY RETIRED TO BISHOP IN 1989.
PREVIOUSLY, ESTHER HAD BEEN THE SCHOOL SECRETARY OF BELL HIGH SCHOOL IN LOS ANGELES FOR 30 YEARS.  SHE REMAINED ACTIVE IN BISHOP MAKING MANY NEW FRIENDS THROUGH REGULAR GOLFING, DEDICATED BRIDGE PLAYING, VOLUNTEERING FOR THE NORTHERN INYO HOSPITAL AUXILIARY, AND BEING GENUINELY INTERESTED IN OTHERS.
A LIFE MEMBER OF THE AUXILIARY, ESTHER WAS HONORED FOR SERVING 7000 HOURS, DURING WHICH SHE, ALONG WITH THE OTHER VOLUNTEERS, RAISED FUNDS TO PURCHASE LIFE-SAVING EQUIPMENT FOR THE HOSPITAL.  IN ADDITION TO THAT EFFORT, HER ARTISTRY IN PAINTING, NEEDLEWORK, AND OTHER CRAFTS CREATED MANY ITEMS FOR AUXILIARY FUND-RAISING EVENTS.
SHE ALSO TAUGHT CRAFT CLASSES.
DURING HER LAST FEW YEARS SHE LIVED AT STERLING HEIGHTS ASSISTED LIVING COMMUNITY WHERE SHE FOUND NEW FRIENDS AND A CARING COMMUNITY OF STAFF AND RESIDENTS.  HER 98TH BIRTHDAY WAS A JOYFUL OCCASION CELEBRATED WITH CHILDREN, GRANDCHILDREN, AND GREAT GRANDCHILDREN.
SHE LEAVES HER SON AND DAUGHTER-IN-LAW BILL AND MARILYN CARTER, GRANDSON AND WIFE BILLY AND CHERYL CARTER, AND THREE GREAT GRANDCHILDREN BROCK, JED, AND EVIE, OF BISHOP.  HER GRANDDAUGHTER CARRIE (CARTER) AND HUSBAND JEFF RENNER AND TWO GREAT GRANDCHILDREN CATHARINE AND CLAYTON RESIDE IN GRASS VALLEY, CA.
IN ADDITION SHE LEAVES HER DAUGHTER AND SON-IN-LAW JEANETTE (CARTER) AND JERRY GADT, GRANDSON ANDREW AND WIFE MIKA GADT, AND THREE GREAT GRANDCHILDREN, TAKIRO, KONOKO, AND NANATSU, OF WEST LOS ANGELES AND CULVER CITY, CA.
ESTHER REQUESTED THAT THERE BE NO MEMORIAL SERVICE IN BISHOP.  SHE ASKED THAT ANY MEMORIAL CONTRIBUTIONS BE SENT TO NORTHERN INYO HOSPITAL, 150 PIONEER LANE, BISHOP, 93514, IN CARE OF THE AUXILLARY.