Press release
Garden Inspiration Tour
Hosted by Eastern Sierra Land Trust
Saturday June 8th
Tour will take place in Bishop and Chalfant
9:00 a.m. – 1:00 p.m.
10:00 a.m.: Little Free Library Ribbon-Cutting Ceremony …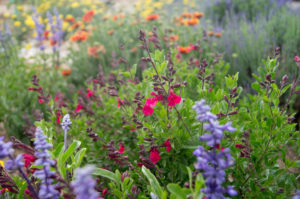 Summer is on its way! Gardens are blooming and reading lists are growing. Celebrate both on June 8th. Pollinator garden enthusiasts will open their garden gates to the community during a free tour, as Eastern Sierra Land Trust unveils their new Little Free Library!
Do you feel the buzz? All across the Eastern Sierra, butterflies, hummingbirds and bees are busy at work. Pollinators like these play a critical role in creating the natural beauty we see all around us at this time of year. Our vibrant hillsides, our flourishing ranches and farms, and our glorious wildflowers are all thriving thanks to them.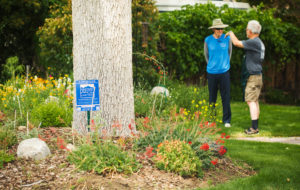 And then there are the gardens. This summer, over one hundred local gardens have been certified as a pollinator-friendly habitat as a part of Eastern Sierra Land Trust's (ESLT's) Eastside Pollinator Garden Project. Each of these gardens is created differently, and each is charming and delightful in its own unique way. Eastside gardeners have been working hard to help important pollinators thrive in their own backyards. Now, they are inviting the community to see the blooming fruits of their labor!
So on June 8th, don't miss ESLT's free Garden Inspiration Tour. Community members of all ages can contact ESLT to pick up a tour map. Then, they can go explore these lovely local gardens in Bishop and Chalfant, at their own pace and in any order.
Each stop on the Garden Inspiration Tour will not only offer chances to ask host gardeners all your questions, but will also feature special family-friendly activities. Participants can learn about installing the perfect drip line irrigation, watch a plein air painting demonstration, hear easy and fun garden photography tips, and more.
One exciting stop on the tour will be ESLT's office at 250 N. Fowler Street in Bishop. At 10 AM, they will host an official ribbon-cutting ceremony unveiling a new Little Free Library! This is permanently-installed community resource is put in place for anyone to use – come by to take a book or leave a book, anytime. At the ribbon-cutting ceremony, community members can get ideas for summer book lists and celebrate reading alongside ESLT's own beautiful pollinator garden.
To join the Garden Inspiration Tour and receive a map of participating gardens, please contact Marie Ring, ESLT Education Coordinator and AmeriCorps Member at [email protected] or (760) 873 – 4554.
Eastern Sierra Land Trust works with willing landowners to conserve vital lands in the Eastern Sierra for their scenic, agricultural, natural, recreational, historical and watershed values. To learn more about Eastern Sierra Land Trust's ongoing work and how to get involved, please visit www.eslt.org.