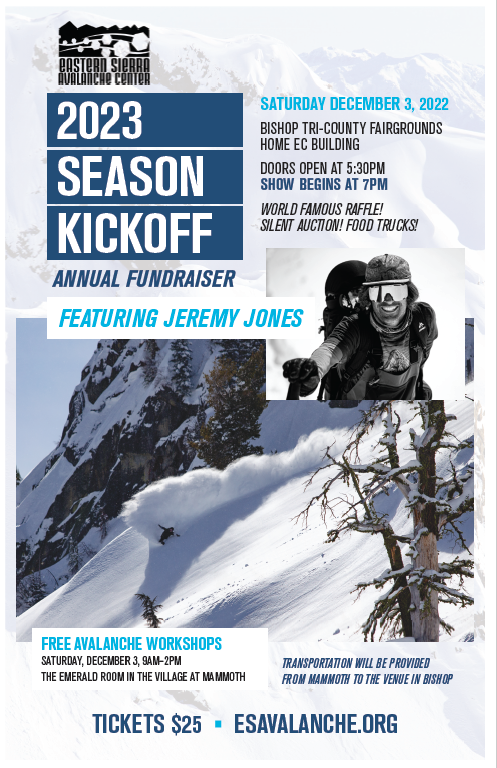 Eastern Sierra Avalanche Center will be holding its annual Season Kickoff Event and Fundraiser on Saturday, December 3, 2022. The ESAC Kickoff is a two part event, with free daytime avalanche workshops in Mammoth and the evening kickoff event and party in Bishop!
The evening Kickoff event features a presentation by Jeremy Jones, a world renowned big mountain snowboarder, environmentalist, climate change activist, and entrepreneur!
The show starts at 7pm. Doors open for the show at 5:30pm at the Tri-Country Fairgrounds Home Ec Building in Bishop. ESAC will have their famous raffle, food trucks, drinks, and a loaded silent auction.
Entry tickets can be purchased online in advance at www.esavalanche.org or in person at the door for $25. Entry tickets include one raffle ticket per entry. Additional raffle tickets will be available at the door for $5 a piece. Raffle winners must be present to win!
During the day of December 3rd, from 9am – 2pm, at the Emerald Room in the Village at Mammoth, ESAC will be hosting FREE workshops for the public by avalanche professionals. Topics will include:
● ESAC Operations Update & 2021/2022 Season
Review / Steve Mace, ESAC
● 2022/2023 Winter Outlook /Chris Smallcomb,
NWS Reno
● A Public Health Approach to Avalanche Education / Kelly McNeil Ph.D, Eastern Oregon University, Wallowa Avalanche Center
● Characteristics of Human-Triggered Avalanches that Occurred During Low Danger in Southwest Montana / Alex Marienthal, Gallatin National Forest Avalanche Center
● The Art of Wet Snow: Forecasting on the Going-to-the-Sun Road in Glacier National Park, Montana / Gabrielle Antonioli, Bridger-Teton Avalanche Center
● Snowpack Visualization Tools: A Practitioner Perspective / Clancy Nelson, ESAC
● An Operational Perspective on Avalanche Safety: Avalanche Mitigation and Safety at Mammoth Mountain / Mike Phillips, Mammoth Mountain Ski Patrol
If you can't make it in person for the workshops, stream it from your home via Zoom. Link available on www.esavalanche.org
Eastern Sierra Avalanche Center is a 501(c)3 non-profit with the mission to inform and educate the public on avalanche conditions in the Eastern Sierra Nevada mountains of California.
Contact: Rachel Drattler [email protected]