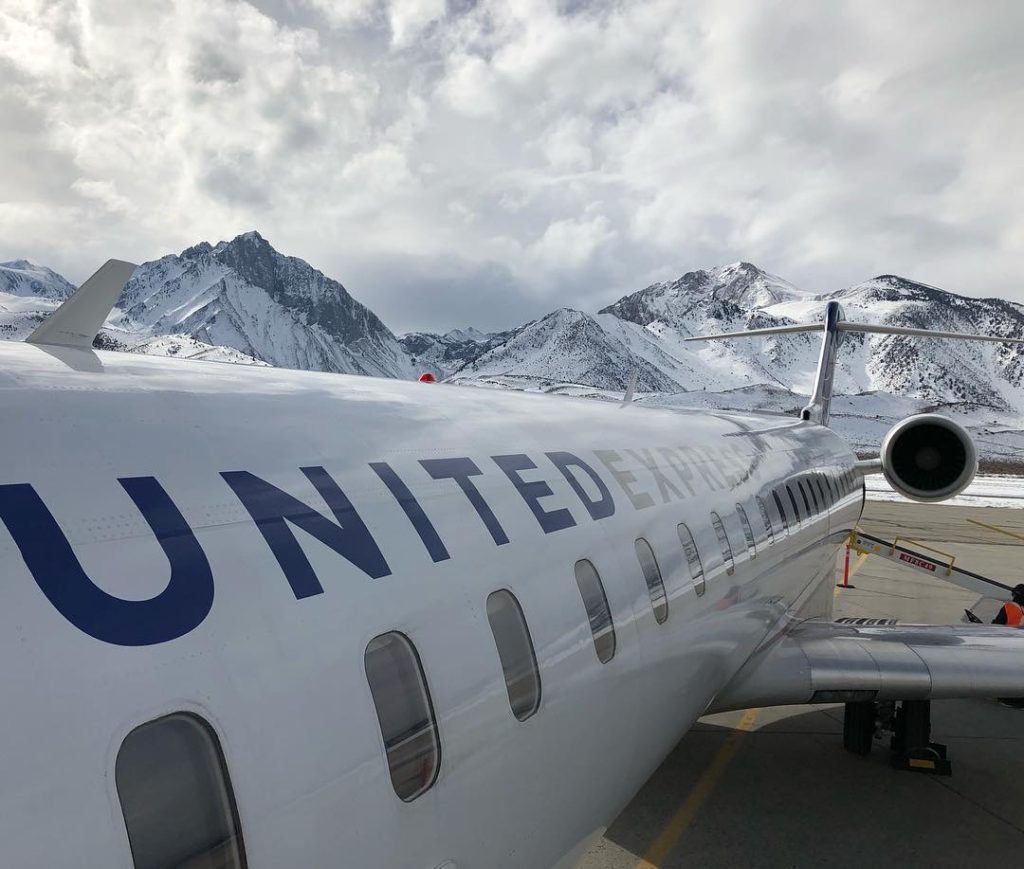 East Side Counties Talk Airports As the Mono Inyo Air Service Working Group Is Revived
The skepticism focused on the feasibility of air service in the Eastern Sierra has all but dissolved with the success of commercial service in Bishop and charter service in Mammoth. Bishop has seen a few cancellations, most of which were based on weather conditions at the point of origin, not Bishop. What has remained, however, is the issue of who pays for what.
Back in 2016, the late Inyo County Chief Executive Officer Clint Quilter recommended the
Eastern Sierra Council of Governments form a sub-committee to look at a regional collaboration focusing on reliable, diversified air service to the region. Identified as the Mono Inyo Air Working Group (MIAWG), that collaboration was recently reformed with representatives from both counties, the town of Mammoth Lakes and Bishop. MIAWG held its first meeting to specifically look at air service now that there is air service out of Bishop.
Representatives included Trina Orrill from Inyo's Board of Supervisors, Karen Schwartz from
Bishop City Council, Bob Gardner from Mono's Board of Supervisors and John Wentworth from Mammoth Town Council.
The concept is complicated as two distinct counties with a lot in common but disparate
personalities have to put aside those personalities and agree on who does what and, more
importantly, who pays for what. Inyo County uses grant funding for airport improvements for
the Bishop facility. At issue is the funding for the minimum revenue guarantee (MRG) for the
airlines to schedule flights to the Eastern Sierra.
Not surprisingly, airlines are reluctant to provide service to an area unless they can make a
profit. The MRG is that guarantee.
Mammoth Lakes Tourism Business Improvement District and Mammoth Mountain contribute
to air service subsidies. Rates vary depending on the size and type of business. The 2022 rates
range from 2-percent of lift ticket and ski school sales for Mammoth Mountain and 1-percent
for lodging. Restaurants and retail businesses contribute 1.5-percent of gross sales, for the
larger entities, to a $500 or $50 annual flat rate, again, depending on business size. Bishop's
Business Tourism Improvement District's assessment rate is 2-percent of gross sales but those
assessments are used for marketing and sales promotion, not air service. MLT is in the process
of renegotiating TBID assessments.
Total contributions to Advanced Airlines, the charter service, is $875,000 paid by MLT and the
town of Mammoth Lakes. MLT, Inyo County and the Mammoth Mountain Ski Area all pay into
the $2,347,000 guarantee to United.
Schwartz, Orrill and Bishop Chamber Executive Director Tawni Thomson all expressed
enthusiasm for year-round service as more people were taking advantage of the Bishop airport.
Basically, with United connections, locals could fly out and tourists could fly in without having
to deal with Los Angeles International Airport, a facility known to tie up traffic from El Segundo to Manhattan Beach.
Thomson described the potential for the Eastern Sierra to be "the new gateway to the West.
People can reach the Eastern Sierra, rent a car and explore without having to land at LAX."
Gardner cautioned the enthusiasm, "year-round has a price tag." Wentworth summed up the
meeting accurately. "Friday's meeting was a most productive and much needed first step as the
region works together to define and implement a reliable, regional air service program. Plenty
of work to come."