** NEWS  RELEASE **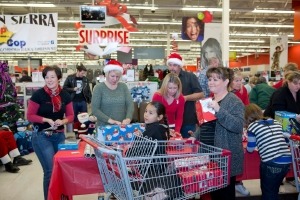 DONATIONS SOUGHT FOR SHOP-WITH-A-COP
Members of the Mammoth Lakes Police Department, Mono County Sheriff's Office, Bishop Police Department, and Inyo County Sheriff's Office and other criminal justice agencies are busy planning the fourth annual Shop-with-a-Cop, scheduled for Saturday, December 13.  This is a special day where local law enforcement helps families in the Eastern Sierra have a nice Christmas.  Children from disadvantaged families are identified by the various departments.  On Saturday morning, the children are picked up at their homes by the police officer "partner" and taken to breakfast.  After breakfast, they respond code three (red lights and siren) from breakfast to K-Mart in Bishop where they are each provided with $200 to shop for Christmas for their families.  After shopping, volunteers wrap the gifts and the officers and their new partner travel home where an early Christmas celebration begins.
K-Mart has been very generous in providing additional gift cards and all the wrapping materials.
The goal is to provide Christmas for 50 families in the Eastern Sierra.  That means $10,000 must be raised.  Various organizations and individuals have provided funds, more are needed.  Anyone interested in making a donation may drop it off at either the Mammoth Lakes Police Department or Bishop Police Department.  Checks should be made to MLPOA with "Shop-with-a-Cop" written in the "For" line.
And, if anyone is having a difficult time getting into the spirit of the holidays, drop by K-Mart around ten in the morning on December 13 and volunteer to wrap gifts.  It's guaranteed you'll leave feeling much better about yourself!
MAMMOTH LAKES POLICE DEPARTMENT
568 Old Mammoth Rd., P.O. Box 2799, Mammoth Lakes, CA  93546
FOR TIPS, VISIT OUR WEBSITE  HYPERLINK "http://www.mammothlakespd.org" www.mammothlakespd.org AND SEND AN EMAIL OR CALL OUR TIP HOT LINE @ 760 934-3261.