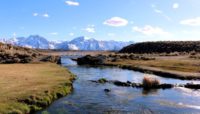 MON FEB 28 2022 4:08 AM PDT 
SYNOPSIS:
This is Feb 28th and no rain or snow is in the immediate forecast. So even though Mammoth Mountain picked up 6 inches of snow last Wednesday, January and February 2022 combined, will go down in the books as the driest on record. As we progress through the first days of March, the one bright spot is we have a system (with two waves) dropping down from the PACNW Thursday then Friday into Saturday. The first wave will be meager and the second wave will be colder with a little better chances of snow. This should affect Mammoth with a chance of snow and the Owens Valley, with a chance of sprinkles and flurries. These waves don't look very impressive, but at this point we will take what we can get. More updates tomorrow…DMATT
SHORT TERM:

BISHOP & THE OWENS VALLEY – BISHOP AIRPORT: (KBIH ELEV. 4121 FT / 1256m)

TOWN OF MAMMOTH LAKES (ELEV. 7129 FT / 2172m)
Today: Sunny. 50 / 27.

Dennis' Probability of Precipitation: 10% – Unlikely; 20% – Slight; 30 – 50% – Chance; 60 – 80% – Likely; 90 – 100% – Certain