The Department of Fish and Game has proposed new regulations for bear hunting – unlimited hunting of bears in California and encouragement of hunting bears with dogs. Locally, the group Bear With Us opposes this move by DFG.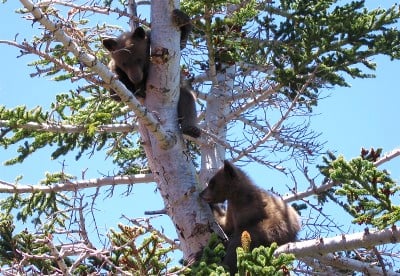 Fish and Game said that letters of opposition must go in by Saturday, March 13th. Marianne O'Connor of Bear With Us in Mammoth Lakes called the proposal outrageous – a proposal, she said, that gives the state's blessing on using dogs to hunt and tree bears so hunters can shoot them out of trees.
Some in opposition say that Fish and Game has demonstrated no need to expand bear hunting in California and has failed to adequately study the statewide bear population or the populations in counties where bear hunting has been proposed.
Those who want to comment can write to Dr. Eric Loft, Chief, Department of Fish and Game, Wildlife Branch, 1812 Ninth St. Sacramento, CA 95818. Email to [email protected]
Marc Kenyon, DFG Coordinator for Bears, Mountain Lions and Wild Pigs, said that most of the proposed changes are based on the black bear management plan. He said if, at any point, DFG learns of negative impacts, they will alter the regulations. Kenyon did say that over the past 20 years, the black bear population has increased four fold to about 38,000.
Why the changed regulations? Kenyon said it's DFG's job to provide hunting opportunities when warranted. Other sources say bear hunting is way down in California.