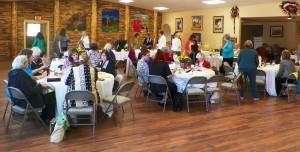 Daughters of the American Revolution
By Charles James 29 April 2013
On Saturday, April 20, 2013, District XV within the California State Society of the National Society Daughters of the American Revolution (CSSDAR) held its first ever district meeting at "The Building" in beautiful Lone Pine. The meeting was hosted by Palisade Glacier Chapter whose members reside throughout Inyo County. District XV contains six chapters – Antelope Valley, Bakersfield, Kawaiisu (Lake Isabella), Panamint Springs (Ridgecrest), Tomo-Kahni (Tehachapi) and Palisade Glacier.
District XV was organized August 13, 2011, as the 15th district within CSSDAR. The State Society will be celebrating its 106 years of service March 6th – 9th, 2014 in Los Angeles, CA at its annual state conference. The primary purpose for the 15 districts within the State Society is to help strengthen chapter interest and for the promotion of a fuller understanding of the State and National objectives.
Daughters of the American Revolutions is open to any woman 18 years or older who can prove lineal, bloodline descent from an ancestor who aided in achieving American independence is eligible to join the DAR. She must provide documentation for each generation of birth, marriage and death, as well as of the Revolutionary War service of her Patriot ancestor. DAR is open to any woman of any race, color or creed. Women who believe they have the necessary lineage are invited to visit the NSDAR website at www.dar.org.
NSDAR has over 3,000 chapters worldwide with a membership of over 170,000 active members. The California State Society boosts a membership of over 9,400 members with District XV membership well over 315 members. Members continue to donate their time to promote God, Home and Country through their efforts of promoting education, history, preservation of our local landmarks, support of veterans, offering scholarships to youth.
District Director, Linda Adams, noted that it has been over fifty years since she had been in the Eastern Sierra area. Happy with the meeting and museum tour, Adams said, "As a child from a big city, I'm sure I didn't appreciate the beauty of Lone Pine and the surrounding Alabama Hills… that has changed. My husband and I are planning a trip to return to this beautiful region."
And they will be welcomed.