Comments Sought on 
Mammoth Mountain Ski Area Winter Recreation Project Proposals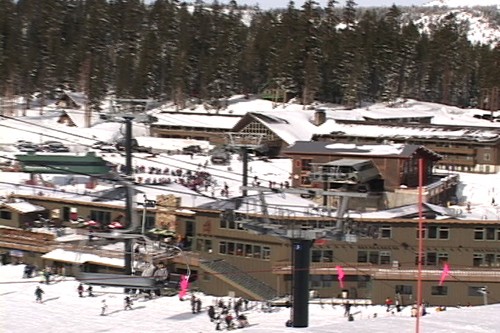 BISHOP, Calif., May 10, 2012 – The Mammoth Ranger District of the Inyo National Forest is preparing an Environmental Assessment (EA) on proposed projects at Mammoth Mountain Ski Area (MMSA), which would be carried out this fall.   The proposed projects would enhance developed winter recreation at MMSA and at Woolly's Adventure Summit (WAS), the winter snow play area adjacent to the ski area.
The proposed actions include the following winter recreation enhancement projects: improvements to the WAS area including expansion of the tubing lanes and parking area; removal and relocation of two old shacks, removal of abandoned footings, and ski run grading, all in an area adjacent to the top of  Face Lift Express (Chair 3) and on the Face of Three ski run; grading within the Coyote ski run; and extension of a snowmaking line to enable snowmaking at the South Park half pipe.
Information about the proposed project and maps will be posted on the Inyo National Forest website on May 17, http://www.fs.fed.us/nepa/fs-usda-pop.php/?project=39228.  Additional information may also be obtained from the Project Leader, Allison Jackson, at 760- 924-5510.
How to Comment and Timeframe
This project is subject to the notice and comment provisions of 36CFR 215.3.    The public comment period ends 30 days following the date of publication of the legal notice in The Inyo Register, which is expected to be May 17.  Those wishing to comment on this proposal should not rely upon dates or timeframes provided by any other source.  Only those who provide comment or otherwise express interest in the proposed action during the comment period will be eligible to appeal the decision.
Written comments must be submitted to Allison Jackson, Winter Sports Specialist, Inyo National Forest, P.O. Box 148, Mammoth Lakes, CA  93546.  Electronic comments may be sent to [email protected]  in the following acceptable formats: plain text (.txt), rich text (.rtf), Adobe (.pdf), or Word (.doc).  Written comments may also be submitted by fax (760-924-5537) or by hand-delivery to the
Mammoth Ranger Station at 2500 Highway 203, during normal business hours, excluding holidays (Monday -Friday 8:00 am to 4:30 pm.)