By Deb Murphy
Four years ago CG Roxane LLC began the process of dealing with arsenic contamination of groundwater at its Crystal Geyser bottling plant in Olancha. Late last week, the company was charged in federal court with illegal disposal of that arsenic-tainted wastewater.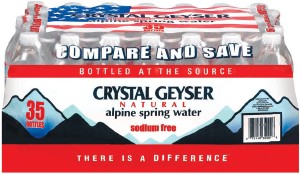 The charges filed in Los Angeles allege CG Roxane and two other companies did not properly disclose the toxic material shipped to a facility in Fontana in 2015, a facility not permitted to deal with hazardous waste. The indictment contains 16 counts that could result in $8 million in fines for each of the three entities.
Crystal Geyser filtered out arsenic, naturally occurring in the water, at its Olancha plant, disposing of the contaminant in its lined Arsenic Pond. The lining degraded over time allowing the contaminants to percolate into the groundwater.
Consultant Geosyntec was brought in to determine the extent of the contamination. Geohydrologists determined the groundwater under the pond flowed northwest, toward Owens Lake and away from private wells in Cartago.
Arsenic Pond was shut down and the company began trucking the concentrated contaminants off site.