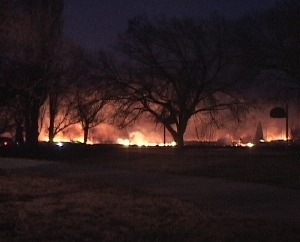 Last spring, fire rushed down the Sierra foothills from the Bernasconi Center into Big Pine. Some 20 homes were destroyed by fire. Now, insurance companies and home owners have filed lawsuits.
Attorney Peter Tracy represents Mike Rossi and his wife Evette Hannon. They lost everything in the blaze and have filed suit against the Carson Valley Men's Group, a kind of self-help organization of 30 or 40 men that had been on a retreat at the Bernasconi Center, started a warming fire and thought it was out. Very strong afternoon winds whipped in and sent flames down the hill. Fast fire fighting limited the damage to homes at the bottom of the foothills According to court records, the lawsuit also names the County Office of Education which had rented facilities to the men's group.
Attorney Tracy said that the Office of Education did require $1 million insurance from the group, which they had. Insurance companies that covered and rebuilt other homes in Big Pine are believed to have sued the men's group and the Los Angeles Department of Water and Power, owners of the land at the Bernasconi Center. Tracy said no trial has yet been set and more depositions will be conducted in December. He said others may join the lawsuits.
Some sources have indicated that CalFire may also sue to recover fire fighting costs. Tracy said these matters may end up in mediation in the spring. The community of Big Pine, severely impacted by the fire, galvanized support for the fire victims through local churches, especially the Methodist Church where hundreds of pieces of clothing, furniture and appliances became available to those in need.