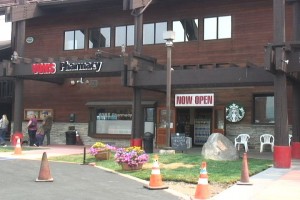 NEWS RELEASE – MLPD
On Sunday night at approximately 11:15 pm, Mammoth Lakes Police Officers were dispatched to the Vons Pharmacy in Mammoth Lakes for a report of a burglary in progress.
Upon arrival, a Vons employee told officers that she was contacted by a customer who was a witness to the crime.  The customer saw someone attempting to break into the pharmacy, and then climb onto the roof.  Upon arrival, MLPD officers searched the rooftop but did not locate any suspects.
The officers then made entry into the building after discovering an open exterior window.  During a search of the business, officers discovered that an unknown suspect forced entry into the interior of the pharmacy.  Officers also discovered that the suspect attempted to force open the cash register.  Although it is clear that a quantity of prescription medication was stolen, the full loss will not be known until a complete inventory is completed.
After reviewing the surveillance video, officers obtained the following description of the suspect.  A person of unknown gender wearing a dark hooded jacket or sweatshirt with the hood pulled over the suspect's head and a red scarf or bandana covering their face, 'skinny jeans', light colored gloves and grey tennis shoes.  The suspect was about 5'08" and appeared to have a thin build.  The suspect was seen on the surveillance video carrying a large amount of medication out of the pharmacy.
Anyone with information regarding this crime is asked to contact the Mammoth Lakes Police Department and speak with Detective Doug Hornbeck or Sergeant Marc Moscowitz.