(Press Release)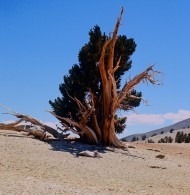 Bristlecone Pine Film Night and Artists Reception
~ Wednesday August 1 ~
 The Inyo National Forest in partnership with the Inyo Council for the Arts (ICA) will host a Bristlecone Pine Film Night and Artists Reception on Wednesday August 1, at 6:00 p.m. at the ICA Gallery.  The Gallery is located at  137 South Main Street in Bishop.  The reception, hosted by the arts council, will showcase local artists exhibiting bristlecone pine themed art work.
 Starting at 7:00 p.m., several documentaries, short films and even a Lassie adventure episode, all filmed in the Ancient Bristlecone Pine Forest, will be presented.
The reception and film night are free and are part of the celebration for the grand opening of the new Bristlecone Pine Forest Visitor Center, scheduled for September 1 at 1:00 p.m.  Come and enjoy the beautiful art work, bristlecone pine films and learn more about the grand opening celebration.
The artist's reception and film night is sponsored in partnership between the Inyo National Forest, the Inyo Council for the Arts and the Eastern Sierra Interpretive Association.