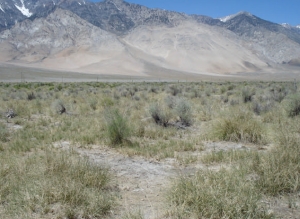 The Inyo-Los Angeles Water Agreement was based on what amounts to a 1 to 1 vote over objections. Inyo gets one vote and LA gets one vote. That means LA can hang up Inyo's concerns for a long time. Take the Black Rock area north of Independence, known as Blackrock 94. Inyo began to see plant loss there before 1991 and on to the present. For over 23 years, Inyo suspected DWP's groundwater pumping killed off plants there. Finally in 2011, Inyo presented a report to the Technical Group of staff members from Inyo and LA. That report alleged a measurable vegetation loss from groundwater pumping and reduced surface water diversions. The issue remains unresolved. The two sides will continue to talk about Blackrock 94 when the Standing Committee meets Tuesday at 11am at the Inyo Supervisors Board Room.
In 2012, with no resolution of the 2011 report of groundwater pumping damage, Inyo County started the dispute resolution process under the Water Agreement. The dispute went to the Technical Group and then the Standing Committee. DWP would not agree with Inyo's complaint. Another year later, Inyo submitted the dispute to an Arbitration Panel. Inyo asked the Panel to determine that DWP pumping had killed off plants to a significant degree in violation of the Water Agreement and that mitigation should begin. DWP asked the arbitrators to find that Inyo had failed to follow the rules of the Water Agreement in assessing Blackrock 94.
In October of last year, the Arbitration Panel found a measurable change in plant life had taken place but that the Technical Group had failed to address what caused it and how bad it was. Back to the Technical Group. More reports were filed in April. It's no surprise that LA and Inyo still could not agree on the issues. So it all went back to the Standing Committee. Findings are supposed to go to the Arbitration Panel by May 1st with a hearing on May 15th.
Here is where it stands – Inyo and LA agree that a measurable change in plant life has taken place in Blackrock 94. Inyo says it's LA's groundwater pumping and water diversions that have killed the plants. DWP says plants died, not because of their groundwater pumps, but because of climate cycles including precipitation, runoff and water spreading. DWP also says the plant die-off is "not significant."
At Tuesday's Standing Committee meeting, the two sides will consider a resolution of the issues and a request for more time to submit reports to the Arbitration Panel. On another issue, the agenda includes the Lower Owens River Project seasonal habit flows. The meeting starts at 11am in the Independence Supervisors Board Room.