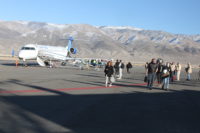 Last December, the first United Express began air service to the Bishop Airport. This past week, John Urdi, executive director of Mammoth Tourism, and Ashley Helms, Inyo Public Works
deputy director, had the opportunity to report a nearly flawless six months of service. With this
successful ski-season flight schedule, Urdi is exploring new markets.
The only mishap out of 121 flights was a long lay-over from Denver, Urdi said, accounting for
one-half cancellation. The issue was a socked-in airport in Denver. Ironically, Urdi explained a
good snow year isn't good for flight reliability.
This year, United flights to Bishop originated in Denver, San Francisco and Los Angeles.
Thursday and Friday were the highest arrival days; Sunday and Monday, the highest departures.
One of the goals of reliable air service to the Eastern Sierra was the anticipation air travelers
would stay longer—as opposed to the wave from Los Angeles driving in Friday night and leaving Sunday afternoon. The numbers indicate that goal was met
The vast majority of passengers came to ski or snowboard, with just under 20-percent flying in
to visit friends or family. Summer service to Bishop will be limited to San Francisco, starting
with five days a week on June 24 through early September. Urdi will be working to set up
service to Bishop from Dallas, Salt Lake City, Phoenix and Seattle in the future. In addition, he is looking to eliminate LAX in preference for Hawthorne. Though the two airports are only four
miles apart, getting in and out of LAX can be a nightmare. Not so at Hawthorne. Passengers
coming from distances can land at LAX and shuttle to Hawthorne to catch a flight to Bishop.
Mammoth Airport, with Advanced Airlines providing charter service, flew in and out of
Carlsbad, Burbank and Hawthorne, for a total of 4,656 flights during the 2021-22 season.
Advanced started a four-day-a week schedule June 16 and will continue through September.
Urdi is looking at Dallas, Salt Lake City, Phoenix and Seattle for future charters.
Helms outlined future plans for Bishop, including a switch to the CRJ175, considered a better,
newer airplane with more seats, no baggage restrictions and a high passenger rating. In
addition, the 175's instrument approach design, will come in handy considering varying winds
in the valley.
Future, long-term, plans also include a new terminal, maintaining the existing facility for
general aviation. Part of the federal infrastructure bill could provide grant funding for the
project. Inyo's grant request has been selected for further review, according to Helms.