Long-time Big Pine resident, Cleo Ava Miles, age 104, born in Floyd, Iowa on September 20, 1910, passed away peacefully at her home with her family by her side on January 20, 2015.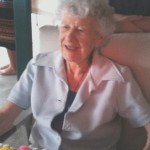 At the age of 18, Cleo moved from Iowa to Southern California to attend the UCLA School of Business where she met her first husband, William Vance. They were married, started their family, and moved to Big Pine in 1950 where they owned the Big Pine Store, Big Pine General Store and several other properties in the town of Big Pine for many years. After the passing of her husband in 1959, Cleo continued to operate the store retiring and selling the business in 1963, and marrying her second husband, Dr. Carson Miles in 1966.
Cleo was a caring and giving person, who not only enjoyed spending time with family and friends, but very much enjoyed volunteering her time and efforts to many organizations and groups including the Big Pine Care Center, Bishop Care Center, Salvation Army, Hospice Thrift Shop, and Wild Iris to name a few. She was a dedicated member of the Big Pine Methodist Church and the Big Pine Methodist Women's group. Throughout her lifetime, Cleo was the recipient of many recognition awards for her selfless and charitable service to these agencies. Anyone who knew Cleo also knew of her passion for reading as well as her love for baking and sewing as was known for her delicious baked goodies and hand-sewn/knitted items.
Cleo is survived by her brother, Robert Winner of Arkansas, son, Bob Vance and wife, Patricia of Big Pine; Grandsons, Patrick Vance and wife Lenna, Jeremy Vance and wife Lynda, Mike Neil and wife Becky, Ron Neil and wife Dana, and Billy Neil; Granddaughters, Paula Thomson and husband Jason, Shari Harris and husband Joe, Sara Vance and husband Jason Barlow, Cathy Hill and late husband Billy Hill, Debbie Dyer and husband Larry, Karen Belden and husband Rick, Linda Schaaf and husband Gary, and Cheryl Brown. Cleo is also survived and remembered by 23 great-grandchildren, 13 great-great grandchildren, and the extended Miles family. Cleo was preceded in death by husbands William Vance, and Dr. Carson Miles, sister Dorothy Blakely, brothers Art and John Winner, daughter Marilyn Vance, son William Vance, Jr.,  grandson Robbie Vance, and great-granddaughter Jenny Neil.
Services for Cleo Ava Miles will be held on Sunday, January 25, 2015 at 1:00 pm at the Big Pine Methodist Church with Reverend Karen Moore officiating with burial to follow at the Big Pine Cemetery and reception at the Big Pine Town Hall. In lieu of flowers, it was Cleo's wish for donations to be made to the Big Pine Methodist Church or the Big Pine Volunteer Fire Department.