The men and women who, at the sound of a bell, drop everything they are doing to come help you and your loved ones, often at great risk, could use your help.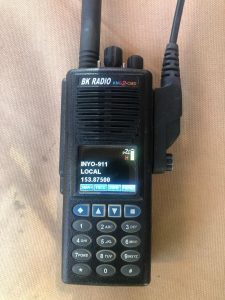 The Big Pine Volunteer Fire Department recently discovered that 4 Bendix King handheld radios worth $8,800 had been stolen sometime in the last 2-3 months. They're not sure of the exact time frame because the radios were kept in the trucks and it's something, they don't use all the time. Sort of an "out of sight; out of mind" sort of thing. Even so, they remained ready to go for when the firefighters needed them.
According to BPVD Fire Chief Damon Carrington, a couple of months have been spent with the incident being investigated by the Inyo County Sheriff investigators. They are only reluctantly now letting the word out in hopes that someone in our community might have seen or heard something that will help with getting the radios back.
Even if "out of sight and mind," in certain firefighting scenarios, radios are an important, critical piece of equipment.
Portable radios help firefighters who enter buildings stay in touch with those outside and what they are doing. And the reverse is also true. The firefighter inside a burning building can tell others both on the outside and others inside what is going on, who is where, who needs help, what dangerous situations inside might be developing,  and where additional resources might be needed. And then, sometimes, a firefighter needs to know when "to get out of Dodge. The building might be in danger of imminent collapse and the firefighters inside need to know that!
Radio communication is vitally important to the Incident Commander, the person at the scene who is responsible for directing the operation, sending resources of both equipment and personnel to where it is most effective to save lives and property.
If you have any information about these radios, please contact the Inyo County Sheriff's Department. If you perhaps bought these radios, and had no idea that these were stolen, BPFD ask that you please return them to the fire department.